Our Stories
Nancy Schoener, RN, NP
Our Stories: Calvary Nurses
Our Stories: Social Workers
Nancy Schoener, RN, NP
Director of Infection Control, Director of Employee Health, Deacon, Chaplain for Calvary Hospital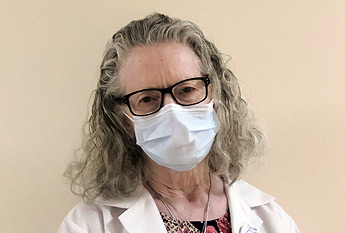 "Becoming a registered nurse taught me how to care for my patients bodies. As a CPE-trained chaplain, I can care for the mind and spirit as well."
Q: How long did it take to prepare for this crisis?
A: We have prepared for a crisis such as this one and have an infection control policy and procedure for disaster planning in place. We looked at those policies and created protocols based on emergency and management protocols we had already prepared.
Each day something new would come up so we would make tweaks or create new protocols for changes. I still continue to establish new procedures frequently and so we have to figure out the best way to manage these changes with new protocols.
Patient and staff safety is the primary responsibility for the hospital. With this epidemic, it's even more critical that every plan and protocol include patient safety and staff safety.
Q: How has your role changed since the pandemic started over two months ago?
A: I still manage employee health and, of course, patient safety. I also work with pastoral care as a chaplain with patients that are critical. I am anointing patients as well as participating in the process.
Becoming a registered nurse taught me how to care for my patients bodies. As a CPE-trained chaplain, I can care for the mind and spirit as well.
Q: How much time would you say is allocated to handling our new situation on a daily basis?
A: It factors in every aspect of my work. I started working on the safety precautions and protocol on March 6th. Since then I have worked daily from 9 am to 9 pm and sometimes till 11 pm at night. I really love what I do, it's more than a job for me.
Q: How do you practice self-care?
A: I pray daily. I start every day with a prayer and it helps me throughout the day.
Q: Do you have any spiritual advice for people dealing with this crisis?
A: This is the poem that provides my inspiration and is helpful for me during crisis situations. It truly is amazing because God is always there with you during the toughest of times.
Footprints in the Sand
One night I dreamed a dream.
As I was walking along the beach with my Lord.
Across the dark sky flashed scenes from my life.
For each scene, I noticed two sets of footprints in the sand,
One belonging to me and one to my Lord.
After the last scene of my life flashed before me,
I looked back at the footprints in the sand.
I noticed that at many times along the path of my life,
especially at the very lowest and saddest times,
there was only one set of footprints.
This really troubled me, so I asked the Lord about it.
"Lord, you said once I decided to follow you,
You'd walk with me all the way.
But I noticed that during the saddest and most troublesome times of my life,
there was only one set of footprints.
I don't understand why, when I needed You the most, You would leave me."
He whispered, "My precious child, I love you and will never leave you
Never, ever, during your trials and testings.
When you saw only one set of footprints,
It was then that I carried you.