Our Stories
Virginia Panchana, RN
Our Stories: Calvary Nurses
Our Stories: Social Workers
Virginia Panchana, RN, Bronx Hospital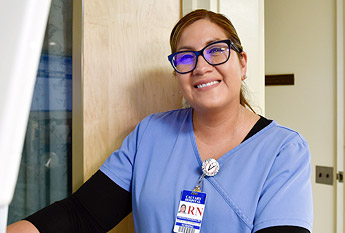 "I have family members who are nurses. They love their career and encouraged me to pursue it as well."
Q: What inspired you to become a nurse?
A: I have family members who are nurses. They love their career and encouraged me to pursue it as well. I believe I have always been a caretaker; I take care of my parents and my kids, so it's very natural for me to take care of others.
Q: What brought you to Calvary?
A: After I graduated in 2009, I was searching for a job and purely by chance I was hired at Calvary Hospital. I knew someone who was working here and she recommended me. I'm truly grateful to work at the best hospital for end-of-life-care.
Q: Why did you decide to care for people at the end of life?
A: My first job as a nurse was at Calvary Hospital so I didn't know what to expect. It was my first experience caring for terminal patients. I learned that there is a need for special care here that not everyone can do. For some, taking care of others, especially at the end of life, is difficult. But I don't see it that way. I'm helping provide comfort, care and compassion to a patient on this journey that we all have to take. I really love what I do.
Everyone has a different perspective for the end of life. I follow my patients' pace and try to help them get the services they need. I develop a relationship with the families and patients. I make an effort to learn their likes and their dislikes, how to communicate with them, how to get them to communicate with me. Patients might be cautious at first, but after a few days they get comfortable and then they open up. We develop a special trust.
And for patients that don't have any family, we become like their family. We see them all the time; we're providing all the care and all the support.
Q: Describe the most memorable experience you ever had with a patient or family member at Calvary.
A: There are so many, it's really hard to pinpoint. I remember a young patient. I think he was in his 40s. His mom, who was a widow, was taking care of him, and he was her only son. She was constantly with him. When he arrived here, he was so happy. He really appreciated that we let him do as much as he possibly could. Where he was before he came to Calvary, they didn't really try to meet his needs, and it stood out to me because he was so young. He was always very thankful for everything that we ever did. He was with us for a few months.
Q: What qualities are essential to be a Calvary nurse?
A: You definitely have to be compassionate, with lots of patience. You have to be caring and empathetic. You have to try to do whatever the patients want and fulfill their needs as best you can, whether they want an ice cream, or they want to go to recreation, or they just want to get out of bed.
You have to be a strong person and realize that you are helping your patients go down a different path. It's not the journey we learned about in nursing school, because in school you're learning how to heal someone, what signs to look for, and when to call the doctor. At Calvary, we're here to make our patients comfortable and to manage their symptoms. You have to let go of the other mindset and change your thinking. You have to be able to accept that this is their journey.
It can be very emotional for me, especially if I get close to someone. It can be sad but I'm going to stay here because my patients need me.
Working here helps me realize how precious life is. Everybody has to take this journey eventually—and Calvary is a place that can help reduce suffering, for patients and families. If we can continue to provide that service, then we are doing a good job.