Our Stories
Maria Antonelli, RN
Our Stories: Calvary Nurses
Our Stories: Social Workers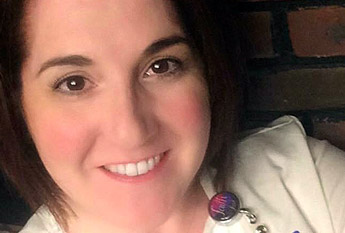 "We help families navigate this special end-of-life journey. This is what CalvaryCare® is all about."
Q: What inspired you to become a nurse?
A: I knew I wanted to be a nurse way before I knew what it meant. I would watch television shows that I vaguely remember. Whenever I saw a nurse in a white crisp uniform, I was interested in what she was doing.
I used to line up my dolls on my mom's sewing machine because it was my makeshift ward. I would cut a pizza plate and clip it to my head, because every needs a cap. My mom realized my "patients" received their vaccines when she would find her pins missing.
I became a hospital volunteer at 14 years old and I was so excited to have a uniform. Yes, I looked like a candy cane but I was at the bedside. It was where I wanted to be on weekends and every day off. The nurses in the pediatrics department were so welcoming and I saw the culture of nursing first hand. I joined the future nurses club in high school and we went to various type of nursing settings.
After high school, I started to go to college for nursing but then I was offered a full-time job as a Personal Care Assistant (PCA). I jumped at the position because it was where I wanted to be, at the bedside. I was 19 years old at the time. I enjoyed every min of being a PCA until I learned I can do more so I went back to school and received my LPN license. I later obtained my RN license.
Q: What kinds of nursing have you done before coming here?
A: As an LPN, I worked in settings of med/surg, oncology and rehab/brain injury.
I found oncology to be a little difficult because that is where I found true suffering for patients and their families. I witnessed the devastation of informing patients of a terminal illness and see their whole world crumbling before them. I felt completely helpless because I couldn't do anything to fix the situation. I ended up working with rehab/TBI patients for over 10 years. It was an uplifting experience to see people recover.
Q: What brought you to Calvary initially?
A: I started working for Calvary in September 2016 after I graduated from Brookdale Community College in Lincroft, NJ. I was hired to work at the Brooklyn Campus as a per diem staff RN. Two weeks later, I was offered a full-time night shift position. I knew that end-of-life care was my niche.
Q: Why did you decide to work with patients at the end of life?
A: The hospital I was working at was phasing out the LPN role while I was going to school. My manager at the time told me about a Hospice Residence that the Hospital was in the process of opening. So I started to read up on Dame Cecily Saunders, the founder of the global hospice movement. I was intrigued and accepted the position and my love for hospice care began.
Q: If you speak another language, how has that helped you with patients and families?
A: My parents migrated to the United States from Italy in the late 60's. I found my early education challenging as English wasn't my first language. This has taught me patience. Sometimes people need to process stressful info no matter what language they speak.
Q: Describe a memorable experience you had with a patient or a family member here.
A: During COVID, I had a patient whose family would visit with a FaceTime session. The patient was not doing well and I knew his sons were so heartbroken and scared. I tried to keep up with the daily FaceTime sessions with all the patients that I could.
This particular patient had sudden terminal changes so I FaceTimed all his sons. They were able to be with their Dad during his last moments until the doctor came in and pronounced the patient. The sons were able to be present as if they were in the room. I didn't realize how much that moment meant to the family. I am glad I was able to make it possible for them.
Q: What qualities are essential to being a Calvary nurse?
A: A Calvary nurse is a special nurse. He or she needs to be able to care for the patient and their family. At a certain point, the patient is on their journey and the family will need us to help them navigate what is to come next. Allowing the family to be partners in care can allow closure. This is what Calvary care is all about.