Our Stories
Kalmalee Golden, RN
Our Stories: Calvary Nurses
Our Stories: Social Workers
Kalmalee Golden, RN

Clinical Care Coordinator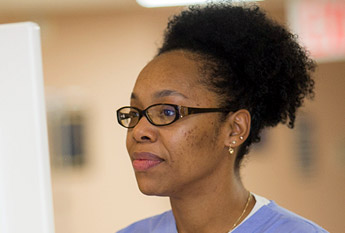 "If I can make every patient's final journey brighter and provide compassion, comfort, and care, then I know I'm doing my best"
Q: What inspired you to become a nurse?
A: I initially did not start school as a nursing major, I was a psych major at first and I didn't feel engaged or motivated, my roommate was a nursing major and I feel that nursing kind of chose me. I don't really feel like I'm the smartest nurse or like I'm the best nurse or anything like that but I do often feel like I'm a present nurse. If I'm with a patient or family I try to be the nurse that they need to address whatever need they might have at the time, that's what motivates me to be a nurse.
I worked at Mt. Sinai on a telemetry unit and I did that for (2) years, it was interesting; I did the night shift there, 12-hour shift. I didn't really have a passion for cardiac nursing. I felt like I didn't get to develop a relationship, it was just a really high turnover. I like developing relationships with the people I take care of.
Q: You came to Calvary how?
A: I left Mt. Sinai because I had a baby. I started looking for (8) hour shifts which led me to Calvary because it does (8) hours during the process, I did my research for the interview I thought it would be kind of interesting because we get care when we have a baby, we get care when we're sick, we get care for anything else. It just seemed like a really important thing to also have quality care during the end of your life so I thought it would be something cool to explore and it turns out that I liked it a lot so I am still here.
Q: What characteristics do you need to have to be a good nurse?
A: You need to be willing to put yourself in someone else's shoes because during the day you can get caught up with just going through the motions. I think once you're able to step back sometimes and put yourself in someone else's shoes you are able to deliver a higher level of care because people want to be treated the same. I treat patients with empathy, the way I want to be treated and sometimes you do have to take a step back.
Q: How did you feel about end-of-life care when you first started?
A: Initially, I wasn't sure what to expect because they didn't really address end of life much in school. There was not an in-depth end-of-life class so I was curious about what it would be and honestly the first year or two was kind of rough because my first patient that passed I actually had to cry in the room before letting the staff know that he had actually gone on his name was Mr. Riley in room 626 I was with this patient for a couple of weeks I think he was there for a couple of months and I just had him towards the end and when he passed I really needed to take a moment in the room to just get it out and it kind of just happened, once that passed it happened a couple of times after he didn't have much family so it was really just him.
Q: When you have a patient without family is the care kind of different because you're focused on the patient as opposed to managing the care with both?
A: I think it is because you don't feel divided because your time is now solely for that person because sometimes there's family there they also need some of your attention so at that point it's really just trying to be everything you can be for this person who has basically no one.
Q: How do you differentiate a person who is present and a person who is not present?
A: I talk to all of my patients. I'll put the t.v. on the music channels. Just letting them know that someone is there, put music on. Some patients point at things because they cannot verbalize. I remember we had a patient and she was young which made it even you know but she did have family and she had an interesting medical situation, she was very present but she could not really communicate verbally and her family wrote the alphabet on the board and on the back of the board just basic things that she would typically ask for. She would just spell out what she wanted, you have to be patient with someone like that because it can take a person longer to process things and you have to be patient. You can ask a question and maybe you will get an answer like a minute later but they will answer it just takes a while. She was young maybe 42, 43 there was someone there almost always. They were not accepting I know it was difficult for them, they became more impatient with her. I think the staff took on more of an ownership of her. Initially, they started out okay, I think they got worn out, it is exhausting. She was completely bedridden. I think she was at Calvary for 4 months. We cried when she passed because we spent a lot of time with her and she was young and she was lovely, she was so sweet.
Q: Have you ever had a friend or family treated here?
A: No I have not.
Q: What point did you say I can do this?
A: I think I had a patient and it was just how despite the condition she was in, she just had the most beautiful personality and outlook on life. I kind of felt like she can appreciate her situation and make the best of it and with us helping her to keep this outlook since then I kind of took on just the thought the concept that if I can make someone's the end of their journey a little brighter a little more comfortable then that's okay, they are not just dying, we can help them to pass in a way that is comfortable, they're taken care of. We can go in, we smile with them, we laugh with them, we share stories and in that, we help them to have a more dignified passing. We are not just medicating them. We are helping them.
Q: Describe the most memorable experience you ever had with a patient or family member at Calvary.
A: I was emotional after my first patient passed away. I remember him like it was yesterday (12 years ago). Room 626 Mr. Riley, he was at CH for a couple of months but I was with him in his final weeks. When he passed – I pronounced him and I was surprised by emotions. I started to cry. I needed to compose myself before I shared the news so I took a moment to be emotional. I was present with my emotion and since then I have cried several times. We form a bond with a patient and when they are at CH for several months we form a bond because I'm treating them daily. (she has nine patients she is responsible for daily).
Q: What qualities are essential to being a Calvary nurse?
A: Patience and being present is critical – providing compassion, care and comfort to every patient no matter their demeanor is the paramount. It's important to remember that before you enter a patient's room to remember "you could be the last face they see before they go on their final journey" "Be your best self and be true"