Our Stories
Lisa Irwin, RN, BSN
Our Stories: Calvary Nurses
Our Stories: Social Workers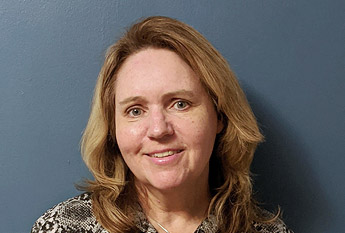 "A friend and former co-worker started working for Calvary. She told me that it was a great place to work. She was right! I have been working for Calvary for over 17 years."
Q: What inspired you to become a nurse?
A: I was inspired to become a nurse by my mother, Catherine Solga, who is a retired R.N. She went to college after having six children, and worked nights while we were young.
I had the opportunity to work with my mother when I was 18 and 19 years old. I had the experience working summers with developmentally challenged children.  It was a very humbling experience and helped with my decision to choose nursing.
Q: What brought you to Calvary?
A: A friend and former co-worker started working for Calvary. She told me that it was a great place to work. She was right! I have been working for Calvary for over 17 years.
Q: Why did you decide to work with patients at the end of life?
A: Initially, I started working for Calvary in Home Care. Four years ago, when I transferred to Hospice here, I was nervous about it. I am very happy I made this decision. Working with patients at the end of life care not just a job, it's a calling from God.
Q: Describe a memorable experience you had with a patient or a family member at Calvary.
A: I have had many memorable experiences with patients and families while working for Calvary. One particular family was very nervous and struggled initially with caring for their mother at home. I visited her for 5 months.
Although they did want to keep their Mother in her home, as she had wished, for end of life care, the family needed a lot of teaching and support along the way.
I laughed and shed many tears with the patient and family. Ultimately, they were successful in keeping Mom comfortable and she passed away peacefully in her own home.
I did not realize the impact I had on this family until I received a beautiful letter from one of the daughters, thanking me for my support. The letter went on to say how much it meant to the family that I was so comforting to all of them and their Mom, that I was a source of reason and helped everyone stay calm — no matter what was going on in the house.
They said they felt like I was their angel and that I was truly in the right profession.
Q: What qualities are essential to be a Calvary nurse?
A:
To work successfully as a Calvary nurse, you need humility, compassion, being able to adapt to change, respect all cultures, be able to accept constructive criticism, be willing to continue learning, and have the ability to work with patients, families and other disciplines as a team.