Our Stories
Elena Filatov, RN, MSN
Our Stories: Calvary Nurses
Our Stories: Social Workers
Elena Filatov, RN, MSN, Brooklyn Campus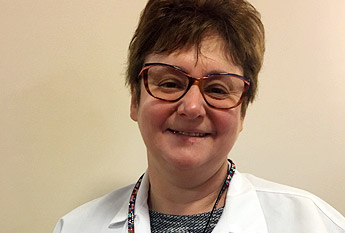 "My experience with a deathly ill father made me promise myself that when I became an adult, I would provide all patients quality care regardless of their nationality or religious affiliation. Health has no religion or color."
Q: What inspired you to become a nurse?
A: I was born and raised in what used to be known as the USSR (Russia). As a Jewish family, we were subjected to constant discrimination and denied the right to practice our religion.
When I was eight years old, my petite mother, carried my father with her bare hands into the community hospital. He had a fever and severe abdominal pain. He was given a bed but was not attended to. The nurse at bedside said to us, "I do not know when I will get to him, I am busy." We knew that being Jewish was a key reason why my father did not get the immediate care that he deserved.
My experience with a deathly ill father made me promise myself that when I became an adult, I would provide all patients quality care regardless of their nationality or religious affiliation. Health has no religion or color.
Q: What brought you to Calvary?
A: My family was a part of the large immigration of Soviet Jews to Israel in the 1990s. Now we were able to freely practice our faith, but as immigrants, we were treated like second-class citizens. I made the decision to immigrate to the United States to achieve the American dream.
It was far from a dream, since I was met with a language barrier, strict immigration laws and scarcity of employment due to the lack of a work visa. As a single parent in a strange country without a support network to turn to, I struggled to pass the National Council Licensure Examination and maintain a full-time job to support my family.
I was greatly influenced by Calvary physician, Dr. Maria Leif. She saw a spark in me and potential that no one else did. She helped convince me that Calvary is where I belonged. Seeing the compassion Dr. Lief shows with patients and their families emphasizes how she is a true healer. This has kept me at Calvary all these years.
Q: Why did you decide to work with patients at the end of life?
A: Calvary is the only hospital in the U.S. dedicated to comfort care, supporting the patients' social, spiritual, and cultural needs are met along with to their physical comfort, when curative outcomes are no longer realistic.
I developed my interpersonal skills and a greater understanding of others while working in Oncology/Palliative Care. Providing care to people at this difficult time is incredibly satisfying for me. I have worked here since 2002. I have never been more fulfilled and content with my purpose in life than being at Calvary.
Q: Describe a memorable experience you had with a patient or family at Calvary.
A: A Jewish Orthodox patient was admitted, with his son as his healthcare proxy. A medical dilemma arose to initiate a NG tube and administer enteral feeding.
In the previous hospital, the son was told that this was the ultimate solution for his father's condition. The patient refused the tube and demonstrated his anger towards his son. "When asked is that your son? The patient replied, "If he was my son, he would not do this to me." The son was destroyed by such a hurtful remark.
At Calvary, the advanced practice nurses supported the son in this difficult time by providing him information about the enteral feeding, which was by our measurements unnecessary for the patient's beneficence. The son told us, "no one has ever explained it to me." Constructive communication can create an efficient resolution with many patient dilemmas.
Communication is critical to ensure that advanced practice nurses and patients develop a rapport, as a successful outcome is the end goal for each patient. An effective leader can explicate and enlighten both family members and staff with proper communication skills that will project valuable information, understanding, and clarity.
Q: What qualities are essential to be a Calvary nurse?
A: Communication is critical to being a Calvary nurse. This ensures that we develop a rapport with patients and their families. As nurses, we must lead by example encouraging everyone to have compassion and making sure the needs of all patients are met.
To learn more:
www.calvaryhospital.org/2020-the-year-of-the-nurse-and-the-midwife
www.calvaryhospital.org/nursing-careers-ny