Our Stories
Dahlia Elliott, RN
Our Stories: Calvary Nurses
Our Stories: Social Workers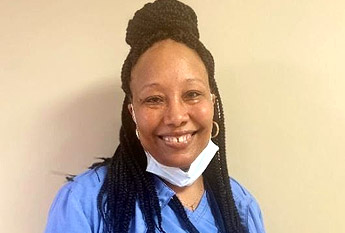 "The fact that I am able to make my patients smile even though they are in so much pain, makes being here more fulfilling."
Q: How long have you worked for Calvary? What brought you to us?
A: I started working at Calvary in 2014. After working in Infectious Disease, Rheumatology, and Immunology, I started looking at new areas of nursing and came across an advertisement for a Hospice Nurse. I interviewed with Nancy D'Agostino and she thought I would be a better fit in the hospital environment because of my personality. I had an interview with a Patient Service Manager, Lucy Hernandez, and the rest is history.
Q: What or who inspired you to be a nurse? Have you always wanted to work with patients at the end of life?
A: I was a manager in a medical practice and had a lot of interactions with the patients. The patients liked my interactions with them and thought that I would make a good nurse. I eventually took their advice and decided to go back to school to be a nurse. It was just by chance that I started working with end-of-life patients.
Q: How many other people in your family work in nursing or in healthcare?
A: My two sisters are nurses and I also have cousins who are nurses.
Q: Describe what it means to be a nurse here.
A: Working at Calvary has offered me an amazing experience. The fact that I am able to make my patients smile even though they are in so much pain, makes being here more fulfilling.
Q: What was it like to work here during the pandemic?
A: Working here during the pandemic meant that we had to do a lot more for the patients in terms of emotional support. We had to be the families who couldn't visit. It was hard for a lot of patients but we did the best we could.
Q: Please share a memorable experience with a patient or family member.
A: One of the most memorable experiences for me was when a patient was dying and she didn't have any family by her bedside. She asked me and two other care technicians to stay with her until she passed. She held our hands and thanked us for taking such good care of her and then she slipped away peacefully.
Q: If you teach at a nursing school or are involved in a professional organization, please tell us.
A: I am a clinical professor at a local college. I am also a member of Sigma Theta Tau International Honor Society of Nursing, Phi Delta Kappa Honor Society of Teachers, Infusion Nurses Society and also a member of the American Nurses Association.