Our Stories
Bridget Mulligan, RN
Our Stories: Calvary Nurses
Our Stories: Social Workers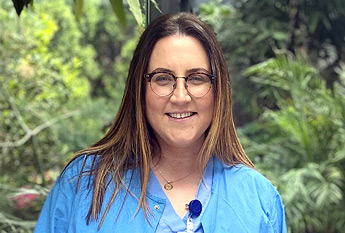 "As a nurse at Calvary, you're not only taking care of the patient. You're also taking care of all the people they're leaving behind."
Q: What or who inspired you to be a nurse?
A: My mother inspired me to be a nurse. She's been a nurse for over 30 years and she still loves what she does. She always told me if you love what you do, you'll never work a day in your life.
Q: How long have you worked for Calvary? What brought you to us?
A: My mom worked at Calvary for over 10 years. When I was in nursing school, I got a job here as a unit secretary and I loved it. Once I passed my NCLEX-RN exam, a spot opened up on 3 South and I knew it was meant to be.
Q: When and why did you decide to work with patients at the end of life?
A: When I was in nursing school, I had no idea that I would be working in hospice and palliative care. I was originally interested in working in labor and delivery. An opening on my unit just happened to coincide with when I passed my NCLEX-RN exam.
I've stayed at Calvary for the last three years because when you're working with patients at the end of life, all of the barriers are gone. Race, religion, gender, socio-economic status, none of it matters and I find that really beautiful.
Q: Describe what it means to be a nurse here.
A: Working at Calvary is not easy. As a nurse at Calvary, you're not only taking care of the patient. You're also taking care of all the people they're leaving behind. You have to be able to support the patient on all fronts- medical as well as the spiritual side.
Q: What was it like to work here during the pandemic?
A: I myself was in the hospital with COVID, so I wasn't working at the very beginning of the pandemic. Once I came back to work it took some getting used to. There are days when you are absolutely drained, especially at the beginning when we didn't have as much information as we do now. Every day it's slowly but surely getting better and on the way towards a new normal.
Q: Do you have family that work in nursing or in healthcare?
A: I have nurses on both sides of my family. My mother and her sister are both nurses. My cousin is a Nurse Practitioner. My dad's two sisters are nurses as well.
Q: Please share a memorable experience with a patient or family member.
A: We had a young patient on our unit in her early 40s. She was dying of ovarian cancer. All of her family was in Asia and were unable to come here to be with her. She was so scared every time I went in there. It broke my heart. She would hold on to me when I was going to leave and start crying and then sometimes I would just start crying too. We were all there with her when she died. I feel like we were the closest thing she had to family. It was so sad but I feel like we all helped her in her moment of need.
Q: What qualities are essential to being a Calvary nurse?
A: The most essential quality to being a Calvary nurse is compassion. As a nurse at Calvary we are serving our patients. The only way we can truly do that is to have the ability to empathize with them.