Our Stories
Dana Stewart, LMSW
Dana Stewart, LMSW
Hospice Social Worker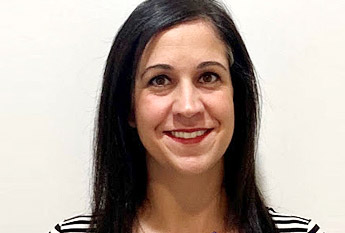 "At Calvary, our patients and families are navigating the transition from seeking treatment to seeking comfort. We help families by staying present and supportive as they face difficult emotions."
Q: How did you first hear about Calvary?
A: I grew up in Westchester and Calvary, being a leader in hospice care, has a stellar reputation. While pursuing my MSW, it became a dream of mine to work at Calvary and be part of a team known for its expert care and compassion.
Q: This year's theme for Social Work Month is "The Time is Right." For decades, the Social Work profession has been dedicated to improving and enhancing the lives of others. Tell us how your profession has played an essential role for patients and families at Calvary.
A: At Calvary, our patients and families are navigating the transition from seeking treatment to seeking comfort. We help families by staying present and supportive as they face difficult emotions.
As social workers, we often help bring calm and understanding to what can be a chaotic and emotionally fueled experience. Social workers are trained to support patients and families by helping them to explore their emotions, and by empowering them to voice their thoughts and feelings constructively.
Facing the end of life and coping with the progression of an illness is a burdensome time. Social Workers provide empathy and compassion.
Q: Tell us a memorable moment you have with either a patient or family member at Calvary.
A: I had a wife at home caring for her husband, newly diagnosed with cancer. Despite her excellent support system and personal strength (physical and emotional), she became overwhelmed, exhausted, and feared that she was "failing" her husband. I was able to listen and engage with her while building a plan to support the patient and help her find calm.
Q: Being a social worker is a unique and essential job at Calvary. Often, you're not just an advocate for the patients, and you're also a mediator for families. What skills or advice have helped you navigate every patient and family experience you've come across?
A: There is beauty in the work we do as an interdisciplinary team. The way we engage and support one another is key. As Social workers, we have a skill set that at its core includes listening, empathy and compassion. When it comes to helping a family through challenging times, the social worker must facilitate conversations that encourage family members to share their fears, concerns, and emotions in a non-confrontational way. Through this process, each family member may be heard and understood.
Q: What resources or advice do you have for caregivers and patients?
A:
Ask questions of your healthcare team, and advocate for yourself and your loved one.
Reach out to people for support and communicate your needs clearly.
Make your wishes known to those who will be present when health care decisions need to be made.
Designate a Health Care Proxy.
And, most importantly, start these conversations today!!
Our Stories: Calvary Nurses
Our Stories: Social Workers