Our Stories
Shawn Boyd, RN
Shawn Boyd, RN, Bronx Campus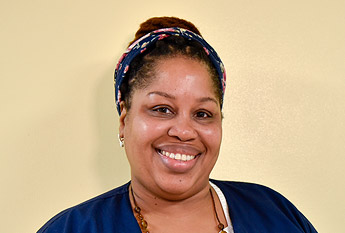 "I think it's a calling. Calvary opened me up to a whole new type of care. People think that when someone is in the end stage of life, there isn't much to do. In fact, you have to do much more."
Q: What inspired you to become a nurse?
A: What really inspired me was caring for my mother when she got sick. Although I felt sad, I found that caring for her gave me a good feeling inside about helping others. I think it's a calling.
Q: What brought you to Calvary?
A: After I became an LPN, I worked at a nursing home, and I really liked it. While there, I started going to school to continue my nursing education. But my schedule at the nursing home made it difficult. Around that time, I met an RN who encouraged me to come over to Calvary. I didn't even know about Calvary at the time. I started working there and I went to school. Calvary was willing to work with me on a schedule so I could do both.
Q: Why did you decide to care for people at the end of life?
A: Calvary opened me up to a whole new type of care. People think that when someone is in the end stage of life, there isn't much to do. In fact, you have to do much more. You have to care for the patient, and you have to be there for the family. You need to be compassionate. You need to have empathy. You need to have caring. You need to be like a warrior.
Q: Describe the most memorable experience you ever had with a patient or family member at Calvary.
A: I remember all the patients.
There was a lady who was the most beautiful patient in the world. She never complained. We would have to ask her, "Are you in pain?" My goodness, I loved her! She was with us for several months. Her husband still says hello when he comes in for Bereavement support or some other activity.
Another memorable experience I had was with a patient about six months ago. She was about 59 or 60 years old with two children, a boy 19 and a girl 22. The mom had ALS and couldn't speak. She needed a lot of help, and those kids were always by her side. They took shifts. This lady touched me inside–she was so sweet. She smiled all the time. She knew she was dying but she just showed so much love. I miss her.
Q: What qualities are essential to be a Calvary nurse?
A: As a Calvary nurse, you can't go into a patient's room with your problems; you've got to leave your troubles at the door. You must have resilience to be able to bounce back from what you see and feel. You see the life in the person and then you see the death in the person, and you have to try to balance that out.
I've been here 10 years, and I tell the new nurses to remember that we are not sitting on our deathbed; we are lucky to go home every day. So, when a patient takes a turn for the worse and the family gets upset and it feels like everything is falling on you, as a Calvary nurse, you need to sit, and talk with them. Ask them to share a memory about their loved one from last week or even last year. You need to have strength for the family because they know their loved one isn't coming home.
With new nurses, I always tell them that it's good to have a professional boundary but it's also okay to love your patients and do as much as you can for them. So many of the positive comments we get back from patients and families say how loving and caring we are.