National Nurses Month
Meet Reynante Tan, RN
Our Stories: Calvary Nurses
Our Stories: Social Workers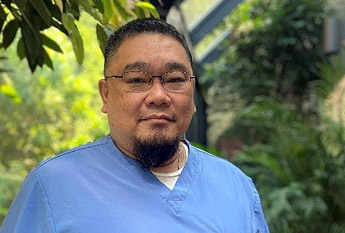 "Being a nursing professional, I am able to give my patients the dignity and compassion they deserve in their final days."
Q: What inspired you to become a nurse?
A: I didn't always know I was going to pursue nursing. My father and best friend influenced me to go to nursing school. Over time, I grew a passion for it and I wanted to help those in need. Being a nurse for 28 years has given me a sense of fulfillment by serving others, especially those who cannot take care of themselves.
Q: What brought you to Calvary?
A: I've been a nurse at Calvary since June 2017. At the time, I was working at Mary Manning Walsh on the hospice floor and met a social worker who told me about Calvary. I realized through my experiences from bedside care to management roles, that I can be of more help to others through bedside care.
Q: Why did you decide to work with patients at the end of life?
A: When I came to the United States, my uncle passed away from colon cancer back home in the Philippines. I contacted a relative who was with my uncle and he told me how much he suffered at the end. At the time, they did not have medication or treatments to give those who were terminally ill. This made me realize how important palliative and hospice care is. Being a nursing professional, I am able to give my patients the dignity and compassion they deserve in their final days.
Q: What are the various ways that you have worked for us as a nurse?
A: I originally applied for a part time position at Calvary but I was given the opportunity to work full-time instead. In March 2020, I was promoted to being the charge nurse on 5 North.
Q: What was it like to be a nurse during the pandemic?
A: It was a difficult situation. As a person dedicated to my work and my family, I did not want my family to be exposed to the virus, but I also wanted to be there for my patients and my coworkers. Even though I had recently become the nurse in charge of my unit, we worked together as a team and we were able to give each other the support we needed.
Q: Describe a memorable experience you had with a patient or a family member at Calvary
A: One memorable experience I had with a patient was actually when my wife was sick. The patient and my wife were both dealing with cancer. It almost felt like I could feel what the patient and their family were going through because my family and I were also experiencing a difficult time. Fortunately, I had the overwhelming support from my work colleagues to help me along the way.
Q: What qualities are essential to being a Calvary nurse?
A: The qualities that are essential to being a Calvary Nurse are having compassion, dedication to your profession, providing patient-centered care.